About Us
Dhaka Delhi Restaurant is a Indian takeaway in Ruddington. Why don't you try our Stuffed Paratha or Mushroom Bhaji?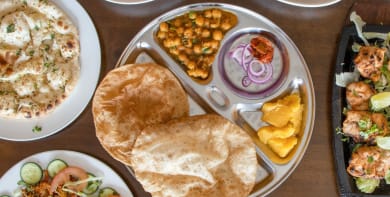 Reviews
155 reviews
Scott
"Superb as always"
23/05/2020
Holly
"Ordered from here on Friday and was so impressed. Good food, speedy delivery and I also got some extras for free which was a nice surprise."
22/05/2020
Melissa
"Food was delivered fast, still hot all the order was amazing best indian I have enjoyed in a long, time will 100% be ordering from them I the furture"
16/05/2020
Simon
"Another thoroughly good meal. Thanks."
09/05/2020
Menu
Garlic Special Chicken Tikka
Cooked with garlic & tomatoes in a medium spicy sauce
Medium
£9.50
Garlic Special Lamb Tikka
Cooked with garlic & tomatoes in a medium spicy sauce
Medium
£9.50
Pasanda Chicken
Marinated chicken OR lamb cooked with freshly chopped ginger, fresh cream, almond powder, a touch of pistachio, sliced almond in a creamy sauce
Nuts
£9.50
Pasanda Lamb
Marinated chicken OR lamb cooked with freshly chopped ginger, fresh cream, almond powder, a touch of pistachio, sliced almond in a creamy sauce
Nuts
£9.50
Sizzler Murgh
Sliced chicken OR lamb cooked with green chillies, peppers, tomatoes, onions, soy sauce, Worcester sauce & fresh coriander
Fairly hot
£9.50
Sizzler Lamb
Sliced chicken OR lamb cooked with green chillies, peppers, tomatoes, onions, soy sauce, Worcester sauce & fresh coriander
Fairly hot
£9.50
Tandoori Zesty Chicken
Barbecued breast tandoori chicken pieces cooked in a special garlic curry sauce with tomato & lemon zest
£9.50
Tandoori Zesty Lamb
Barbecued breast tandoori chicken pieces cooked in a special garlic curry sauce with tomato & lemon zest
£9.50
Tandoori Chicken Saag
Barbecued breast tandoori chicken pieces tossed in fresh green spinach home cook style with roasted garlic, ginger & lemon sauce with fresh coriander
£9.50
Morchi Chicken
Chicken goujon, finely chopped & cooked with fresh green chillies & coriander
£9.50
Naryali Chicken
Chicken pieces grilled in a tandoori oven & cooked in a highly spiced sauce, created from fresh chilli, coriander & coconut
£9.50
Achari Gosht
Tender pieces of lamb cooked with pickled chilli mango, lime & other spices in a thick sauce
Medium to mild
£9.50
Lamb Bahar
Tender pieces of lamb, cultured yoghurt & cream in thick sauce
Medium to mild
£9.50
Aloo Gosht
Lamb cooked with roasted potatoes, onion, fresh herbs & spiced in medium sauce
Medium
£9.50
Bengan Bortha
Tender lamb cooked with aubergine in a thick medium sauce
Medium
£9.50
Tandoori Chicken Balti Aloo
Special balti sauce with capsicum & onion, tomato & potato cooked with tandoori chicken pieces
£9.50
Shahi Jalfrezi
Grilled chicken, in hot & creamy sauce, green chillies & cream
£9.50
Garlic Chilli Masala
Tandoori grilled chicken, cooked in a hot & spicy sauce created from garlic, green chillies, onion & coriander
Hot & spicy
£9.50
Royal Chicken
Barbecued chicken cooked with garam masala, bay leaves cinnamon, to our chefs own recipe
Medium
£9.50
Dhaka Chicken
Tender chicken pieces cooked in fairly hot sauce with boiled egg, green herbs, garlic & lemon sauce
Fairly hot
£9.50
Chicken Rezotti
Grilled chicken cooked with mushrooms, onions in a spicy sauce
£9.50
Delhi Chilli Chicken
Breast chicken marinated in pure Indian ghee. Cooked with fresh garlic, onion, chopped green chillies, cinnamon, bay leaf, coriander & herbs
Spicy
£9.50
Dhamaka Murgh (Spicy)
A traditional Bangladeshi favourite for the adventurous, consisting of naga chilli, garlic, fresh lime juice & chopped coriander
Fairly hot
£9.50
Adhari Chicken
Pieces of baby chicken cooked with ginger, hint of chilli, in a smooth creamy sauce
£9.50
Podina Chicken
Cooked with gingery hot spices & flavoured with fresh mint
Hot
£9.50
Podina Lamb
Cooked with gingery hot spices & flavoured with fresh mint
Hot
£9.50
Bhuna Methi Gosht
Medium, hot dry cooked with fresh spices, onion, fenugreek & green peppers
Medium
£9.50
Mahkan Chicken
Prepared in a tomato & butter sauce
£9.50
Mahkan Lamb
Prepared in a tomato & butter sauce
£9.50
Murgabee Chicken
Cooked with fresh eggs, fresh garlic & green chilli to give a strong & spicy flavour
£9.50
Murgabee Lamb
Cooked with fresh eggs, fresh garlic & green chilli to give a strong & spicy flavour
£9.50
Chicken Silsilla
Breast of chicken, chopped finely & cooked with finely chopped fresh chillies & coriander
Hot
£9.50
Begum Bahar
A spicy bed of minced lamb, cooked with onions, fresh coriander & tomatoes covered in a mild & creamy layer of chicken
Mild
£9.50
Murgh Mumtaz
Succulent chunks of chicken barbecued & finished in a blend of cream in a true mughlai style sauce
£9.50
Megna Tawa
Tandoori chicken off the bone & minced meat. Cooked with delicate spices, herbs & courgette, green peppers & onions to provide a medium strength dish
Medium
£9.95
Hash Special (Duck)
Breast of young duckling roasted & simmered with garlic in a rich textured sauce
£9.95
Ropchanda Tarkari (Fish)
Ropchanda is a tropical fish from the bay of Bengal. Delicately prepared in a traditional Bengali style. On the bone
£9.95
Duck Tikka Khezana
Grilled pieces of duck cooked with fresh herbs, onions, peppers, tomatoes & coriander in a thick spicy medium sauce
Medium
£9.95
Shatkora Fish Bhuna
Cooked with a unique Bangladeshi lime called shatkora to give a pleasant & very tasty flavour
£9.95
Tribuji
Selection of chicken tikka, lamb tikka, seekh kebab cooked with onions, tomatoes, fresh herbs in a medium thick sauce
Medium
£10.95
Tandoori Mix Sizzler
Chicken & lamb tikka, seekh kebab & tandoori chicken cooked with fresh spices, green chillies, peppers, tomatoes, onions & fresh coriander
£10.95
Shahi Korma
Selection of chicken tikka, lamb tikka, seekh kebab, tandoori chicken, pieces seared & slow cooked in smooth creamy gravy
Nuts
£10.95
Akbari King Prawns
Grilled king prawns cooked in a mild & creamy sauce
Mild
£10.95
Kebab Puri
Pieces of seekh kebab, chicken kebab, wrapped in a thin fried bread & served with fresh salad
£4.50
Mixed Kebab
As assortment of chicken tikka, lamb tikka & seekh kebab
£4.50
Kebab Platter
An assortment of chicken kebab, seekh kebab & garlic tikka
£4.50
Banarasi Chicken (Mix)
Chicken tikka, chicken kebab & tandoori chicken
£4.50
Chicken Kombi
A mix of chicken & mushroom in a medium to mild sauce
Medium to mild
£3.95
Tandoori Chicken Starter
On the bone chicken slightly spiced & grilled
£3.95
Chicken Chaat
Chicken cooked with onions, cucumber, tomato, chaat masala
£3.95
Chicken Tikka Starter
Marinated pieces of chicken grilled in tandoori oven
£3.95
Chicken Chilli
Grilled pieces of chicken, cooked with fresh green chillies & coriander in our chefs own special recipe
Hot
£3.95
Jhal Tikka
Chicken, delicately spiced with garam masala, fresh chillies, coriander & grilled in a tandoori oven
£3.95
Garlic Chicken Tikka
Tender pieces of chicken marinated in garlic masala & grilled in a tandoori oven
£3.95
Chicken Pakora
Pieces of chicken, dipped in lightly spiced batter & deep fried
£3.95
Chicken Kebab
Minced chicken mixed with herbs & spices grilled in a tandoori oven
£3.95
Chicken Shashlik
Chicken, onions, peppers & tomatoes marinated & grilled in a tandoori oven
£4.25
Chicken Puri
Chicken cooked with onions, tomatoes & capsicum. Served on a puri bread
£4.25
Wings Special
Seasoned chicken wings cooked with ginger & garlic with chef's special sauce
£3.95
Prawn Cocktail
Succulent prawns, mixed with salad & served with cocktail sauce
£3.50
Prawn Puri
Prawn cooked with onions & served with puri bread
£4.25
Fish Tikka (Salmon)
Grilled fish, marinated with chefs special herbs & spices
£4.25
Fish Pakora
Pieces of fillet fish, dipped in lightly spiced batter & deep fried
£3.95
King Prawn Butterfly
Lightly spiced, covered with breadcrumb & deep fried
£3.95
Aam Jingha Sangam
King prawns & mushrooms lightly spiced & served with mango sauce
£4.95
King Prawn Puri
Cooked with onions, peppers, tomatoes, served on puri
£4.95
Chilli King Prawn
King prawn cooked in a spicy, fairly hot chilli & garlic sauce
Fairly hot
£4.95
Set Meal For 1 Person
Poppadom & pickle tray
Vegetable samosa
Chicken tikka bhuna
Pilau rice
Naan
£12.95
Set Meal For 2 Persons
2 Poppadoms & pickle tray
Chicken tikka
Onion bhaji
Chicken tikka masala
Lamb korai
Bombay aloo
Pilau rice
Garlic naan
£25.50
Set Meal For 4 Person
4 Poppadoms & pickle tray
Aloo chaat
Meat samosa
Seekh kebab
Onion bhaji
Chicken tikka masala
Lamb balti
Chicken patia
Chicken tikka achari
Mixed vegetable bhaji
Tarka dal
Egg rice
Pilau rice
Peshwari naan
Naan
£49.95
Mixed Vegetable Curry Side
£3.50
Mixed Vegetable Curry Main
£5.95
Chicken Tikka Masala
Britain's most popular dish, marinated & grilled chicken, cooked in a rich yoghurt & fresh cream. Medium to mild sauce
Nuts
Medium to mild
£6.95
Chicken Dansak
Slightly sweet, sour & fairly hot dish, cooked with fresh lentils
£6.50
Chicken Korma
Very mild dish, slightly sweet, with almonds, coconut & cream
Nuts
Very mild
£6.50
Chicken Balti
Chicken cooked with fresh spices
£6.50
Chicken Jalfrezi
Highly spice dish cooked with chopped green chillies & coriander
£6.95
Chicken Bhuna
Medium thick sauce, generous amount of onions, tomatoes, capsicum & coriander
Medium
£6.95
Chicken Malaya
A medium to mild dish cooked with pineapple
Medium to mild
£6.95
Chicken Dopiaza
Chicken cooked with seasoned onions in a fairly sauce
£6.95
King Prawn Masala
Marinated & grilled king prawns in a rich cream & yoghurt sauce
£9.50
King Prawn Korai
Highly spiced, with capsicum, garam masala. Served on a korai
£9.50
King Prawn Pathia
In a fairly hot & sour sauce
Fairly hot & sour
£9.50
Prawn Bhuna
A dish with onions & tomatoes in a thick sauce
£6.95
Prawn Pathia
Fairly hot & sour dish
£6.95
Lamb Tikka Masala
Marinated & grilled lamb cooked in a rich yoghurt & fresh cream based, medium to mild sauce
Medium to mild
£6.95
Lamb Bhuna
Medium thick sauce, generous amounts of onions, tomatoes, capsicum & fresh coriander
Medium
£6.95
Lamb Jalfrezi
Tender lamb cooked with fresh chillies & coriander
£7.25
Lamb Kashmir
A very mild dish, slightly sweet cooked with lychees
Very mild
£7.25
Lamb Keema Curry
Medium mince lamb curry
Medium
£7.25
Lamb Korma
Very mild dish slightly sweet, cooked with almonds & fresh cream
Very mild
£7.25
Seekh Kebab Starter
Finely minced lamb, marinated & grilled in tandoori oven
£3.95
Lamb Tikka Starter
Marinated pieces of lamb grilled in tandoori oven
£3.95
Lamb Hasina
Grilled lamb, peppers, tomato, onions, coriander & tandoori sauce
£3.95
Lamb Puri
Lamb cooked with onions in a slightly medium sauce, served in a puri
Medium
£4.25
Reshmi Kebab Starter
Finely minced lamb, marinated & shallow fried then wrapped with omelette
£3.95
Tandoori Lamb Chops
Spicy lamb chops grilled pin tandoori oven, creating a unique taste
£3.95
Special Rice
Peas, egg & onion
£3.30
Onion Bhaji
Thinly sliced onions, deep fried with specially prepared batter
£2.95
Samosa
Spicy vegetable wrapped in pastry deep fried
£2.95
Vegetable Chilli
Vegetables cooked with chillies, coriander in chefs special recipe
£2.95
Baingan Pakora
Aubergine dipped in lightly spiced batter & deep fried
£2.95
Aloo Chaat
Pieces of potatoes, medium sauce in a tangy tamarind sauce. Thin slices of potatoes dipped in lightly spiced batter
Medium
£2.95
Vegetable Puri
Mixed vegetables, cooked with onions in a slightly sour sauce, served in a puri (thin fried bread)
£3.50
Chana Puri
Chickpeas cooked with onions in a slightly medium sauce, served in a puri
Medium
£3.50
Chot Potti
Chickpeas & boiled egg, in a tangy thick medium sauce
Medium
£3.50
Paneer Shashlik
Curd cheese, onion & peppers cooked with fresh coriander & touch of tandoori sauce
£3.50
Chefs Special Naan
Keema, cheese, chicken tikka & chilli
£3.50
Contact Us
Find Us
21 High Street, Ruddington, NG116DT